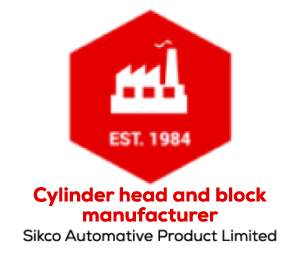 SIKCO is one of the renowned leading cylinder head Manufacturers by revenue, established in 1984. We manufacture and distribute a wide range of high-quality cast iron SG25 grade ENGINE CYLINDER HEAD. Our industrial base is built over more than 36 years of experience in creating the evolution of Automotive, Agricultural & Industrial, OEM / After-Market Spare Parts. From innovative design to precision manufacturing…we are earnest about quality and workmanship at every step of the process.
We manufacture and sell, with a qualitative product range, and exceptional logistics facilities backed with high-end technology, we are a brand to reckon with. Our client-centric approach and over 4 decades of experience; have made us a distinguished and an acclaimed vendor in the OEM & spare parts market. We here in the organisation work together as a family which is foremost to deliver and maintain our quality standards. Quality benchmarks are maintained by us at all levels.
We provide a one-stop-shop for all your needs
Industries We Serve
Diligence, Dynamism & Determination
Production with state-of-the-art technologies helps us to manufacture the best deliverables. The magic mantra that drives our company to success are the 3D's – Diligence, Dynamism, and Determination to uphold quality.
Word of Honour & Testing
All our products come with SIKCO attributes assurance which are tested and approved through different phases to assure they are as per buyer's requirement.
Quality checked spare parts.
All parts are tested at different levels.
Unrivalled quality at the best price.
Get In Touch
Your Appreciation Means a Lot
Testimonials from customers around the world telling you why they chose SIKCO and what SIKCO brings to their lives.
I am very happy with the quality and the durability of the parts. I have been a customer for 2 years and I plan to continue for many more years. Delivery is on time and the parts are packaged appropriately. I would highly recommend these parts.
They make high quality parts. I have used SIKCO parts for several years. I have had no problems with their products. My customers have been very satisfied with the quality. I would recommend them to others.
I must say Sikco has the best cylinder heads and all kinds of spare parts available in the market
For all cylinder heads I can rely on Sikco for sure. I would recommend Sikco to all.
We purchase cylinder heads from SIKCO, they are excellent quality, they have been around for 20+ years. Their parts are reasonably priced, they are reliable and we are able to get parts from them when we need them.
Our Clients Around The World
Made in India, tested for the world.